ROUND ACRYLIC & LEXAN® DOMES
CLEAR, WHITE, TINTED & BLACK
"CLICK" on any image to enlarge. Use your browser's "BACK" button to return.





"Please be advised that material thins on top when vacuumformed"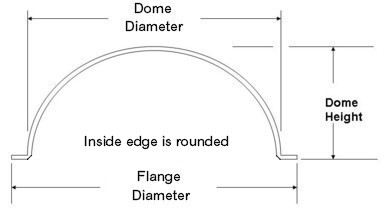 "PLEASE ALLOW 7 - 12 PRODUCTION DAYS TO SHIP
PLUS TRANSPORT TIME FROM CALAIS, MAINE 04619"
ACRYLIC & LEXAN® DOMES
1/8" thk x 2-1/2" diameter x 1-1/4" high plus up to 1/2" wide flange.

E-mail us for quotes to Canada, Mexico & other destinations.
You can change quantity and add other items at the shopping cart.

THIS SIZE SHIPS VIA USPS


"CLICK HERE" TO RETURN TO SMALL DOMES.
Company Terms and Conditions
DISCLAIMER